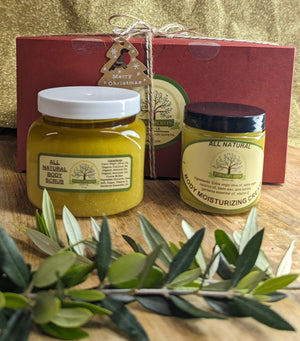 Cosmetic Gift Boxes Body Moisturizer & Body Scrub
Sale price Price $32.00 Regular price Unit price / per
Indulge in the luxury of nature with our All-Natural Body Scrub and Moisturizing Cream set. Crafted for those who seek to embrace the essence of self-care, this duo works in harmony to rejuvenate and protect your skin.
The All-Natural Body Scrub is a sanctuary in a jar. Infused with mineral-rich sea salt, this scrub gently exfoliates away dead skin cells, promoting a smoother, more radiant complexion. Perfect for those battling eczema, its natural elements work to soothe and prevent flare-ups, leaving your skin feeling refreshed and renewed.
Compleme
A perfect treat for yourself or a loved one, our Cosmetic Gift Boxes Body Moisturizer & Scrub is formulated with all-natural creams and scrubs. Our luxurious, plant-based creams nourish skin, while exfoliating scrubs leave it feeling soft and smooth. Pamper your skin with natural, nourishing ingredients!
nting the scrub, our All-Natural Body Moisturizing Cream is a shield against the harshness of cold weather. Enriched with the finest bee wax, it creates a subtle barrier that moisturizes and safeguards your skin. This cream doesn't just offer protection; it also imparts the nourishing benefits of bee wax, which include hydration and the promotion of healthy skin regeneration.
Together, they create a ritual that not only enhances the skin's natural glow but also nourishes deep within. Transform your skincare routine into a moment of tranquility with this perfect pairing, and let the natural ingredients work their magic to give you soft, glowing skin.
Here are the instructions for using the All-Natural Body Scrub and Moisturizing Cream:

**All-Natural Body Scrub:**
1. Begin by washing your body with your regular soap or body wash to cleanse the skin of any impurities.
2. With your skin still wet, take a scoop of the All-Natural Body Scrub and apply it to your body in a circular motion. Concentrate on areas that need extra exfoliation, such as elbows, knees, and heels.
3. Gently massage the scrub onto your skin to allow the sea salt to exfoliate and the nourishing oils to moisturize.
4. Once you've scrubbed your entire body, rinse off thoroughly with warm water. Pat your skin dry with a towel to reveal a smoother, more radiant complexion.

**All-Natural Moisturizing Cream:**
1. After drying off from your shower and the body scrub, take a small amount of the All-Natural Moisturizing Cream.
2. Apply the cream all over your body, or on particularly dry areas, using gentle, upward strokes to encourage good circulation.
3. Allow the cream to be fully absorbed by your skin before dressing, to ensure the protective layer of bee wax and oils can start to work their hydrating magic.

For best results, use the body scrub 2-3 times a week, and the moisturizing cream daily, especially after bathing, to maintain soft, hydrated, and protected skin throughout the day.