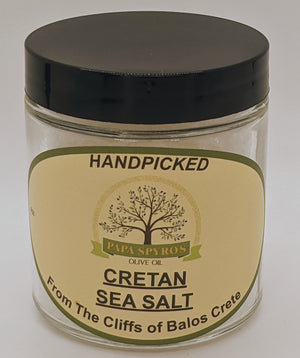 Cretan Sea Salt
Sale price Price $5.00 Regular price Unit price / per
Unrefined Sea Salt Hand pick from the cliffs of Balos, the most western part of the island of Crete.  3oz

Cretan sea salt consists of sodium and chloride, with additional traces of magnesium, calcium, potassium, iron, and iodine. Harvested from salt pans, it is ready for consumption, offering essential nutrients for your well-being.

Cretan sea salt is renowned worldwide for its exceptional health benefits, including:

- Stabilizing heart rate and regulating blood pressure (when consumed with water).
- Extracting excess acidity from cells, particularly brain cells.
- Balancing blood sugar levels (crucial for individuals with diabetes).
- Facilitating the absorption of nutrients in the digestive tract.
- Acting as a natural and potent antihistamine, preventing muscle cramps.
- Exhibiting significant expectorant properties, especially beneficial for asthma and cystic fibrosis.
- Strengthening bones.
- Preventing uric acid arthritis.

It's important to emphasize that genuine Cretan sea salt is directly harvested from salt pans, ensuring its purity and natural properties.
Watch the videos below: 1. Pure sea salt from the cliffs. 2. Quickest way to hydrate your
1. https://cdn.shopify.com/videos/c/vp/64d2feefc28c4bc995dbcf685ee0f527/64d2feefc28c4bc995dbcf685ee0f527.HD-1080p-7.2Mbps-20469597.mp4

2. body.https://admin.shopify.com/store/papaspyrosoliveoil/products/4285975461978