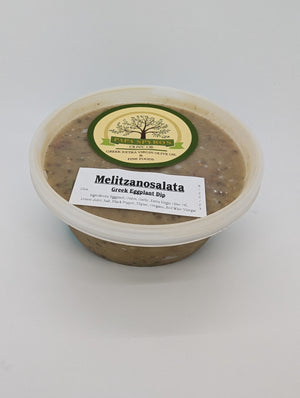 Eggplant Dip Melitzanosalata
Sale price Price $7.00 Regular price Unit price / per
Introducing our Mediterranean-inspired Roasted Eggplant Dip Melitzanosalata, a culinary masterpiece that caters to all taste preferences, including vegans. This delightful dip is crafted with roasted eggplant, onions, and garlic, combined with a blend of olive oil, sea salt, oregano, thyme, lemon juice, and red vinegar.
For our vegan customers, rest assured that our Roasted Eggplant Dip is entirely plant-based, ensuring a rich and savory experience without any animal products. Indulge in the smoky aroma of perfectly roasted eggplant, harmoniously mingling with caramelized onions and roasted garlic. The addition of aromatic herbs and spices, coupled with the refreshing zest of lemon juice and the tang of red vinegar, creates a flavorful journey that suits every palate.
This Vegan Roasted Eggplant Dip is not only a delectable choice for dipping crispy veggies and crusty bread but also a versatile condiment that adds depth to your favorite dishes. Embrace the taste of the Mediterranean, inclusive of all dietary preferences, with our Vegan Roasted Eggplant Dip!