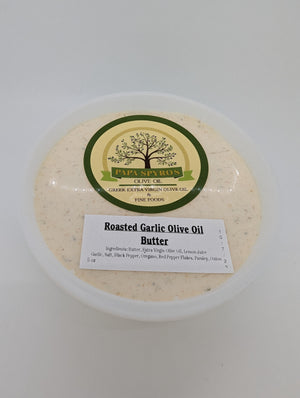 Roasted Garlic Olive Oil Butter
Sale price Price $8.00 Regular price Unit price / per
Introducing our Roasted Garlic Olive Oil Butter, a gourmet delight that will elevate your culinary creations. This exquisite blend features the finest ingredients, including real butter, extra virgin olive oil, lemon juice, roasted garlic, a touch of salt, the warmth of black pepper, the earthiness of oregano, a hint of red pepper flakes for a kick.
This harmonious fusion of flavors is not just an ingredient; it's a culinary masterpiece. Use it to spread on bread for a delectable toast, create perfectly fried eggs, or enhance the taste of any meat or seafood dish. Whether you're grilling, roasting, or sautéing, our Roasted Garlic Olive Oil Butter will infuse your recipes with a burst of flavor that will tantalize your taste buds.
Indulge in the richness of real butter, the health benefits of extra virgin olive oil, and the aromatic blend of spices. Transform ordinary meals into extraordinary culinary experiences with our Roasted Garlic Olive Oil Butter. Don't miss the chance to elevate your cooking – grab your container today and savor the difference!